Mobile application
Have the reception with you at all times. Use the app while you are away. Manage your reservations even when you do not have internet access.
Start using the application
Mobile app allows you to manage your bookings from your smartphone or tablet wherever you are.
Download app
App is available for Android and iOS.
Log in
If you do not have an account yet, you must create one.
Add rooms
Create room base in the booking calendar.
Use
App is ready to use. Make use of all functions of the mobile app.
Primary functions
Mobile-calendar app has been created with facility owners in mind. It allows for hassle-free; safe and independent booking process. The program works both online and offline.
Offline
The app can be used offline as it has its own database.
Synchronisation
The mobile app synchronizes with the desktop app which allows it to be used by multiple users at the same time.
Backup copy
A backup copy is made on our servers which allows you to unistall the app without fear of losing any data.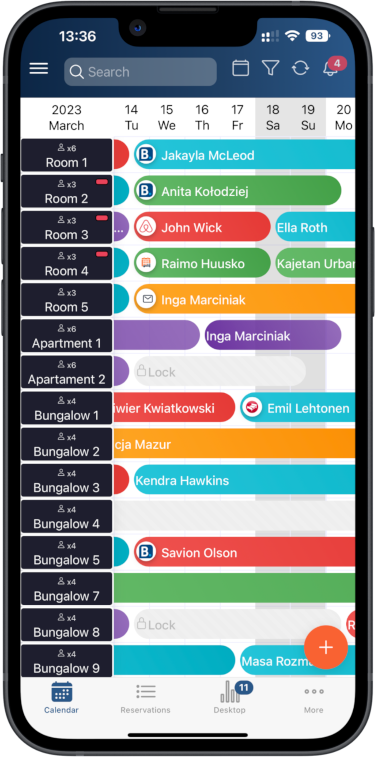 Free-of-charge updates
Every user receives latest updates free-of-charge.
Duplicate bookings
In case of simultaneous use on multiple devices, the app identifies duplicate bookings.
PUSH notifications
The app sends you push notifications regarding today's tasks and new imported bookings.
Download mobile app
Have the reception with you at all times with the use of a smartphone or a tablet.
Mobile app screenshots
Our app is very simple to use, see for yourself!